Week Five: Check with your local government agency for rebate programs
Did you read that right? Yep, it's true – you can help the environment, conserve water, and save money all at the same time. Read on for tips to help you be good to the planet and to your wallet.
1. Cut down on your water bill with these stormwater savers.
Okay, so this one may be a bit of a no brainer, but you can save a shocking amount of money by reducing your water usage and in as a result, lowering your water bill. You can cut down on water bill with simple measures, like managing your soil by using compost or mulch to increase water capture by up to 30%. You can also connect downspout to garden area, and install rain barrels and smart sprinkler systems. All of these will make lower your water usage and make your landscape more sustainable. Be conscientious about how much water you use (i.e., shorter showers and turning the tap off while you brush your teeth) and check out our full list of ways to save on your water bill (link) for more tips.
2. Install a greywater system in your home.
If you've never heard of greywater before, it is the untreated wastewater from your home that has not been contaminated by toilet water or other unhealthy waste. This includes water from bathtubs, showers and washing machines, but does not include wastewater from kitchen sinks, dishwashers or toilets. The average home uses nearly 60,000 gallons of greywater per year!
Installing a graywater clothes washer system will utilize your indoor water as a constant source of reusable water for irrigation – recycling and conserving water and helping to reduce potable water consumption. Plus, you can earn a rebate of up to $250!
Learn more about how to install a greywater system.
3. Use rain barrels or cisterns.
You can collect and save the water that runs off of your rooftop using rain barrels. For every inch of rain that falls, 1,000 square feet of roof surface captures 625 gallons of water. This not only helps reduce stormwater runoff, but also saves you extra water to irrigate your garden. You can earn up to a dollar for every gallon of rain barrel storage capacity – up to 400 gallons and $400 per property!
Learn more about rain barrel rebates.
4. Convert your lawn.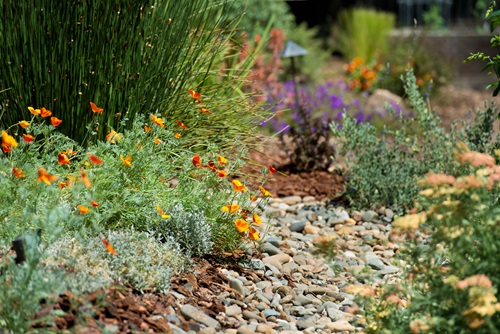 According to the California Department of Water Resources, lawns use up to 44 gallons of water per square foot each year. Converting your lawn to a more water wise option will reduce your water bill bigtime, plus you may be eligible for a rebate.
Learn more about available lawn rebates.
5. Check out more options at SoCal Water$mart.
There are many more rebates available for you to save on. See what's available to you at https://socalwatersmart.com/en/residential/
Have you taken the 52 Week Pledge yet? Sign up today and join our mission to help protect San Diego's waterways!