Pollution prevention gardening is all about smart, sustainable gardening that uses greener methods and fewer chemicals to help reduce stormwater pollution. It's a healthier, more cost-effective style of gardening that focuses on enhancing, nourishing and protecting the local environment. If you choose to plant fruits and veggies, you get the added benefit of growing and eating your own produce!
Keep in mind, many typical gardening activities such as landscaping, excessive use of fertilizers, herbicides and pesticides, and over-irrigation can lead to stormwater pollution. Pollutants such as gardening chemicals and yard trimmings can be carried to storm drains by rain and over-irrigation runoff, and end up in our local waterways and the ocean without being treated. A sustainable garden doesn't harm our local waterways and implements the following practices:
6 Tips for Pollution Prevention Gardening
Properly Adjust Irrigation Systems
Over-irrigation should be avoided at all costs, and happens when gardeners are unaware that an irrigation system should be adjusted or repaired. Check your sprinklers regularly to ensure no water is being sprayed outside of your lawn or running down driveways or sidewalks. Make sure to do your research and understand how much water your garden needs in each season, and schedule your watering times between 10pm and 6am to maximize your water efficiency. 
2. Choose Your Plants Wisely
Native or low water use plants are suited to our local climate and are optimal for low effort, easy maintenance gardens. . They help create environments for birds and insects that are also local natives. If you need to create some shadier areas, plant trees that will add in shade and help protect the plants below. You can also select water-wise plants to use as ground cover, which will also provide protection for soil and can help lock in moisture. Here's a great list of 50 water smart San Diego plants.
Use Good Soil and Mulch Practices
Ditch the fertilizers and pesticides that pollute local waterways and instead opt for healthy compost and nutrient rich soil, topped with a thick layer of mulch. This will protect your soil from direct sunlight and help lock in all of the moisture, lessening your workload in the garden and making life easier. Mulching also helps to prevent erosion and adds ambiance to your garden. Check out these Mulching Basics from the California Native Plant Society to learn how and when to mulch your garden.
Compost, Compost, Compost
Start your very own compost bin and reuse all of your organic waste to fuel your garden! Not only will this reduce waste and your footprint on the environment, it will create incredibly nutrient rich material to feed your garden. It also helps prevent disease and retains even more moisture. You can even throw dead leaves, flower clippings and grass clippings into your compost. Check out this Guide to Backyard Composting to learn how to get started!
Minimize the Use of Pesticides and Fertilizers 
Read the labels and follow directions to avoid improper use of pesticides, herbicides and fertilizer, which can lead to stormwater pollution. Only apply chemicals when it is not windy and more than 48-hours from a rainstorm. Runoff containing these garden chemicals is a major contributor to toxic Harmful Algal Blooms in both fresh and coastal waters, so minimizing your use keeps both the environment and your family safe!
Properly Clean up and Dispose of Gardening Chemicals, Fertilizer, or Soil Spills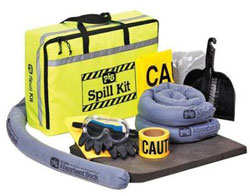 Leave nothing behind – except plants! Make sure you put everything away and don't leave chemicals outside or exposed to the elements. If you do happen to have a spill, follow proper spill cleanup guidelines to ensure the chemicals don't harm you or your garden. Ensuring that everything is put away and in its place will make sure it doesn't end up as stormwater pollution.
Check out the San Diego Sustainable Landscapes Guide and the WaterSmart Landscaping Resources for more tips, tricks, and rebates for making your garden sustainable. Happy gardening everyone!